Archives on International Education and Cultural Exchange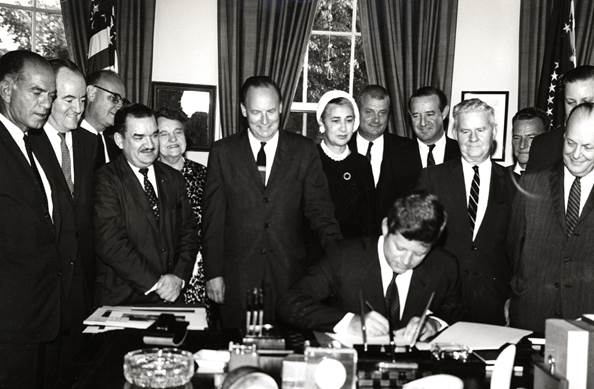 J. William Fulbright Papers, 1941-1960. (MC MS F956 144 Fulbright)
Fulbright was U. S. Senator from 1945-1975 and chaired the Senate Foreign Relations Committee, 1960-1975. The collection consists of records relating to his full career including the International Educational Exchange Program.
NAFSA: Association of International Educators Records, 1948-1990. (MC 715)
Founded in 1948, this nonprofit membership association provides services to professionals in the field of international educational exchange.
Council for International Exchange of Scholars (CIES) Records (MC 703)
Established in 1947, this private agency cooperates with the U. S. Government in administering the Fulbright scholar grants.
Bureau of Educational and Cultural Affairs Historical Collection (CU), ca. 1938-1984. (MC 468)
This department was organized in 1961 within the State Department to administer principal provisions of the Fulbright-Hays Act. In 1978, it merged with the U. S. Information Agency.
Foundation for the International Exchange of Students Records (MC1881)
Incorporated under the laws of the State of Arkansas as a non-profit organization, the Foundation for International Exchange of Students (FIES) was established at the University of Arkansas, Fayetteville, in 1949 by a group of faculty members to promote educational exchange and intercultural activity. The principal effort of the Foundation is providing scholarships for international students to attend the University of Arkansas as well as to encourage Arkansas students to study abroad.
The U.S. Fulbright Scholar Grantee Directories list American scholars who received Fulbright awards for teaching and advanced research abroad from 1948 to 1998. The descriptive information for each scholar is arranged according to academic discipline. Scholars are also listed alphabetically, by home state, and by host country in the indices.
Marie Louise Lavallard Materials (MC1644)
Personal papers, correspondence, scrapbooks, and other materials related to the life and career of Marie Louise Lavallard, a longtime member of the University of Arkansas College of Agriculture. In 1950, Lavallard joined the Foundation for the International Exchange of Students (FIES) at the University of Arkansas and served as recording secretary from 1959-2000, vice-president in 1967 and 1997, and president in 2000. She also wrote an annual FIES newsletter from 1956 to 2006.
Alina Fernandez Papers (MC 870 and MC 1001)
Reports, educational materials, audio cassettes and photographs, 1980-1984, collected by Alina Fernandez who worked for the Cuban Haitian Task Force at Ft. Chaffee.   Papers refer to the official and unofficial operations of the Cuban refugee camps at Ft. Chaffee, Arkansas, Ft. McCoy, Wisconsin, and Ft. Indiantown Gap, Pennsylvania.  Along with summary reports of the Cuban Haitian Task Force, the collection contains sample interviews, English lesson plans, taped interviews and anecdotes by the Cuban refugees, and photographs of Ft. Chaffee.  Most of the audio material is in Spanish as are some other educational materials.
Charles Boewe Papers (MC 2119)
Correspondence, journals, manuscript drafts, newspaper clippings, photographs, and other materials, primarily related to Charles Boewe's involvement with the Fulbright Program in India and the United States Education Foundation in Pakistan.
Related Collections
William H. Hughes Papers (MC 1088)
https://libraries.uark.edu/SpecialCollections/findingaids/wmhughesaid.html
Series 3. Helen Yvonne Hughes, ca. 1950-1956. Box 8.
Letters, greeting cards, picture postcards, and photographs, received from the international students by Helen Hughes while she worked at Public Relations Office, University of Arkansas, Fayetteville, Arkansas.
Sara Alderman Murphy (MC 1321)
https://libraries.uark.edu/SpecialCollections/findingaids/saramurphyaid.html
Box 14 folders 1-7 pertain to Peace Links exchange programs.