Mullins Library 40th Anniversary
Mullins Library 40th Anniversary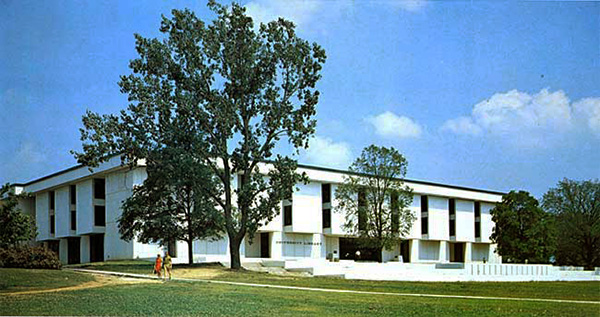 First Year after the Move to Mullins Library
The best way to describe the first year of operation in the new Mullins Library building from its previous location in Vol Walker Hall in 1968 is to quote sections from Grace Upchurch's unpublished history of the University Library, 1929-1970:
On August 23, 1968, at 5 p.m., the University Library closed its doors for public service in the building occupied almost 33 years earlier to the day—the Vol Walker Library, which stands just west of Old Main on the Campus Drive. On that day, also, ended 39 years of service on the Library Staff for the Circulation Librarian, Grace Upchurch, the writer of this account.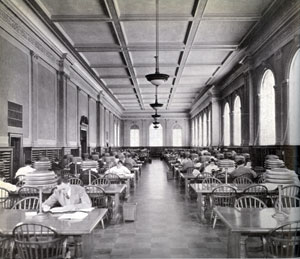 1968-1969
The move into the new building was made the last part of August and the first part of September. In spite of the fact that things were in a state of disarray, and the staff in somewhat a state of shock, the doors were opened for service on September 16, the first day of classes.
Reaction of students to open stacks was most interesting to see. They checked out all kinds of books—old and new, big and little, classics and others—simply because being among so many books was an entirely new experience to most of them. They could not resist the temptation to "sample" what was available.
Rare books continually turned up at the Circulation Desk to be checked out. So many were seen that even the student assistants became rare book conscious and identified and held a number for examination, some of them real treasures.
The Circulation Department, in the course of moving, completely reorganized. It was practically dismembered and the parts remaining reassembled in a new pattern more nearly resembling what a Circulation Department should be
All extraneous duties went elsewhere: audio-visual, special materials that had been in the cage and the vault, the separate Education Reading Room. Whereas the department had for years been busy trying to compress everything into the smallest space possible, it could now expand. Books that had been in boxes in "dead storage" for at least three years were placed, in order, on the shelves.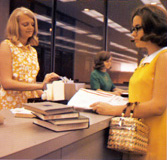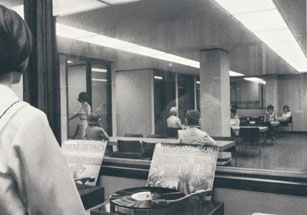 The Circulation Department now consisted only of two desks: the Circulation Desk and the Reserve Desk in the Undergraduate Reading Room. Incidentally, this latter was thrown in for good measure. Some new responsibilities [of Circulation staff] included the Undergraduate Reading Room, and training and supervision of the door guards, who were a part of the public service of the department. Inevitably, the new charging system materials were not ready when we were ready for them, and makeshift solutions were necessary. Reconciling of new charge cards, when they did arrive, with old ones was necessary.
Since book pockets had not before been used, it was necessary to paste pockets in all books checked out. Finally, when enough of a supply could be accumulated, pockets were pasted in all new books as they were sent to the shelves.
We learned by trial and error how best to cope with different problems caused by open stacks. Students, faculty, and Library staff all learned together.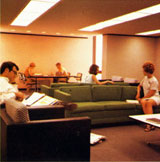 Comment in annual report: "At the end of 10 months it is our observation that adjustments have been made quite well, the building has been well received by students and faculty..."
[By 1969] there was a general smoothing out of all operations . . . . Students and faculty had learned their way about and had settled down to a pattern of usage. Fuller use had been made of all facilities, including open stacks.
Borrowers were more discriminating in selection of materials. It was apparent from the numbers of books left on tables, etc., for shelving that much studying was being done in the Library. Approximately 8.8 percent more books were checked out than the year before, while 21 percent more were checked out from Reserve. Interlibrary loans continued to shift from lending of books and bound journals to the sending of Xerox copies.
Concept of the Original Library
The narrative and photos below are taken from the glossy booklet about the new Mullins Library building which was published at the time of its opening in 1968. This booklet is included in the current exhibit in the Helen Walton Reading Room in Mullins Library (September 16 through October 31).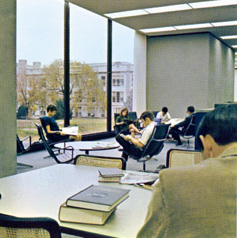 The new University Library was dedicated to the concept of open access to all its resources with the exception of rare books and special collections. The building reflects this fundamental principle throughout its four levels.
The University also decided that function and utility should take precedence over other considerations, but the aesthetic appeal would not be sacrificed. Another important factor in the planning was "expandability." The "knowledge explosion" has had a great impact on library requirements in institutions of higher learning. It is expected that library holdings, now totaling more than a half million volumes, must continue to grow at an accelerated rate. In future years, the Library design will permit, if needed, additions to the building which would double its present size. Space is provided for future automation of ordering, cataloging, and circulation functions.
The basic concept also recognized that comfort and beauty should be important in the total design of the building. The day when a library was an austere, cold, and solemn place is past. Comfortable furnishings, carpeting, air-conditioning, and smoking areas make it easy to relax while working in the new Library
Description of the Original Building
The following are photographs of spaces that reflected the students' needs, as well as the architectural style and interior design of the period:
Level One
Special Collections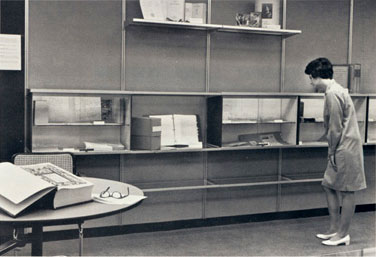 The Special Collections area consisted (as it does today) of a reading room where researchers request and read original materials from closed stacks, exhibit space, staff offices, stacks, and work space.
---
Special Services
These spaces consisted of a general audiovisual listening room, individual listening and microreader rooms, study rooms and carrels for faculty and grad students, a viewing room, seminar rooms, and maps.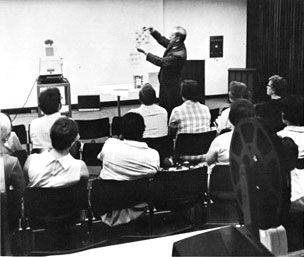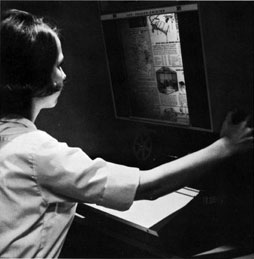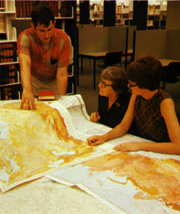 ---
General Stacks
This building provided open stacks—a new experience for staff and students on campus at the time. General stacks were (and still are) located on Levels One, Three, and Four.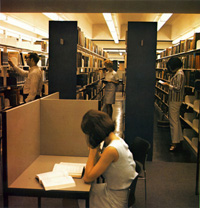 ---
Level Two (Lobby Level)
Central Services Area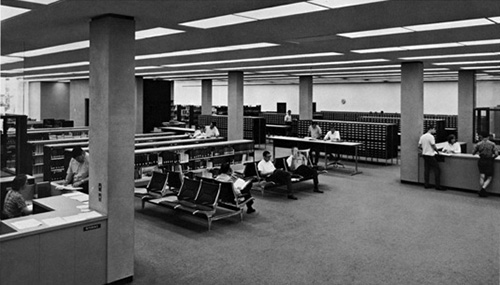 This area was one large space, including a Reference Desk, reference offices, the reference collection, a circulation desk, newspapers, and copy machines, as well as other features not provided today: smoking room (also available on the other levels), the card catalog, individual typing rooms, several coat rooms, and an independent browsing room featuring newly acquired books.
---
Undergraduate Reading Room (does not exist today)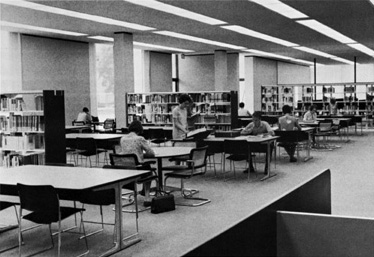 This room, located in the north section of the building, had seating for about 250 readers at study tables, carrels, and on comfortable, informal furniture. Open stacks, with space for 10,000 volumes, housed a collection of standard works, classics, and popular materials "useful to undergraduates making the transition from a high school library to a large research library."
---
Reserve Desk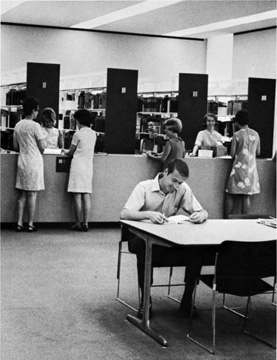 Behind the Reserve Desk was space for as many as 4,500 "closed reserves," for required class reading.  Faculty were encouraged to request that books for assigned class reading be shelved there
---
Technical Services Area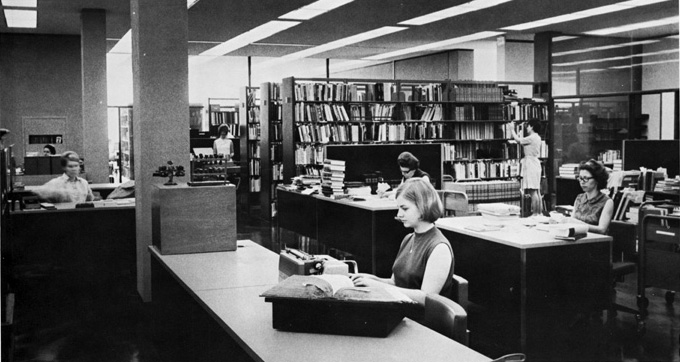 Seldom seen by the public, this space is where library materials are ordered, received, and prepared for circulation. This space has changed very little over the years. A primary design consideration for this area was to allow the free flow of materials and an ease in communication among employees.  This was accomplished through providing one large room, departmentalized through the use of free-standing book shelves. This area has direct access to the Receiving and Shipping room, accessed by a cargo elevator.  Glassed-in offices were provided for supervisory personnel.
---
Levels Three & Four
General Stacks and Comfortable, Attractive Lounges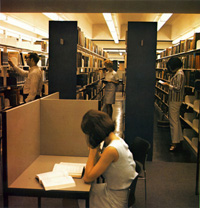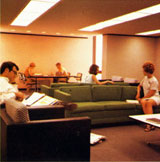 ---
Study Carrels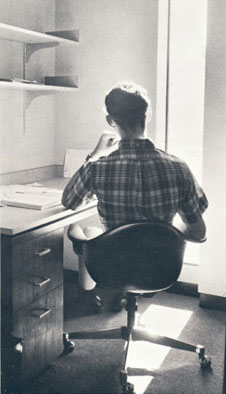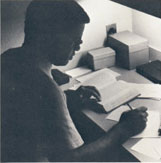 ---
Seminar Rooms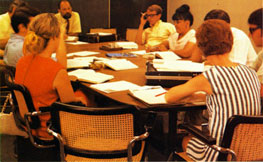 ---
Data for the Original Building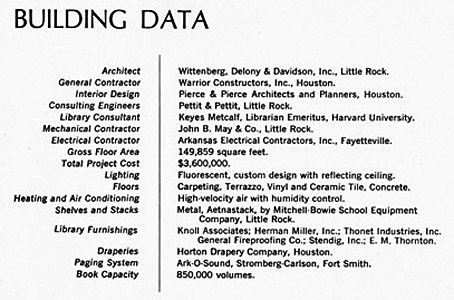 ---
Can you believe that we still have some of this furniture? Wow!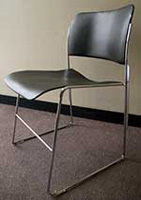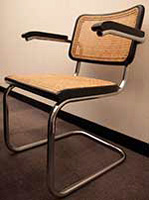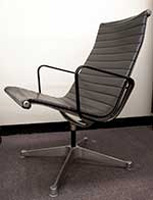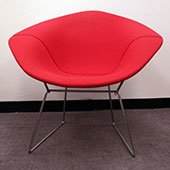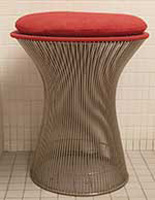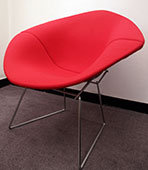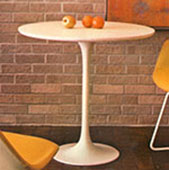 ---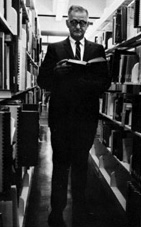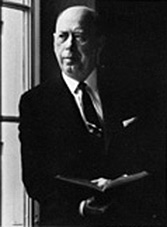 In 1997, the Mullins Library building underwent a major renovation and expansion. For information about this and other aspects, features, events, services, and equipment related to Mullins Library from 1969 to the present, see the current exhibit in the Helen Robson Walton Reading Room, on view from September 14 through October 31, 2008.