Office of the Dean
Battles Hired as Dean of University Libraries
Jason Battles, who most recently served as deputy university librarian for the University of Georgia, has been hired as dean of the U of A Libraries, effective Aug. 16.
In his U of A role, Battles will lead the university's library system, which includes the David W. Mullins Library and four branch libraries. He replaces Dennis Clark, who stepped down as library dean last year to accept a position as the chief of research and reference services at the Library of Congress.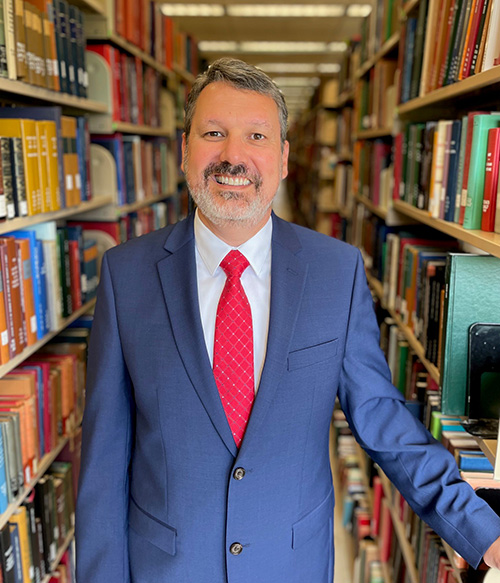 "Mr. Battles' range of experience in library leadership makes him the perfect fit to lead our library system at the University of Arkansas," said Charles Robinson, provost and executive vice chancellor for academic and student affairs. "He has a deep understanding of libraries' essential role on our campus, not only in supporting the many facets of our academic mission, but in supporting the success of our students in new and innovative ways."
"I am excited to join the University of Arkansas in August as the next dean of Libraries," Battles said. "The U of A Libraries have a great team and enjoy wonderful campuswide support — they are the heart of campus. I can't wait to engage productively with faculty, students and staff as we explore new opportunities to serve the university and collaborate across the state to help fulfill the land-grant mission of Arkansas' flagship institution."
Battles boasts more than 16 years of experience working in academic libraries, including seven years in his current role at the University of Georgia, where he oversees library technology support for UGA and multiple statewide library initiatives, digital stewardship and preservation, digital humanities and marketing and communications. He has been involved in numerous significant library renovations at the University of Georgia and has worked with budgets, facilities, collections, personnel and overall strategic direction of the UGA libraries.
"I want to thank Lynda Coon for her exemplary service as interim dean during this time of transition, as well as serving as chair on the search committee," Robinson added. "She has continued the work of her predecessor to set the libraries up for success moving forward."
Mullins Library is set to reopen its third and fourth floors in August after extensive renovations during the last two years, their first update since the building opened in 1969.
Prior to his work at the University of Georgia, Battles served as the associate dean of library planning and policy, director of library technology and head of web services at the University of Alabama. He also worked as a systems librarian and administrator at Vanderbilt University. He is a member of the American Library Association, the Library Information Technology Association and the EBSCO Users Group Board of Directors.
He holds master's degrees in library science and history from the University of Alabama and a bachelor's degree in history and political science from Jacksonville State University.