Funding for Growth Through the Years
Funding for Growth Through the Years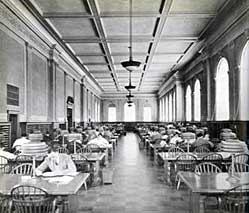 After Old Main was completed in 1875, a library was installed on the second floor. Open less than two hours daily, with a student librarian in charge, the library then had an annual book budget of $800.
The University built its first library building, Vol Walker Hall, with a Federal Public Works Project grant.
By the mid-1960s the University had outgrown Vol Walker Hall, and again a federal grant facilitated the construction of a new library, completed in 1968 and named after University President David W. Mullins upon his retirement in 1974.
An east addition, with its classical façade opening toward Vol Walker and Old Main, was completed in 1997 with state bond money. Furnishings for the addition, including the Helen Robson Walton Reading Room and the Lindley and Kaneaster Hodges Reading Room, were provided by a gift from the Walton Charitable Support Foundation.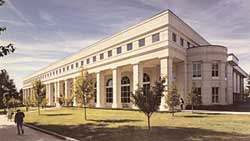 In the years since Frank Broyles led the "Campaign for Books" for the University Libraries in 1982, rapid changes in technology have placed new demands on how libraries meet the needs of students, faculty, and the community. Immediate electronic access to databases containing digital images and files has now become the way students, faculty, and other researchers routinely do business. To boost the Libraries' offerings of electronic resources, the Walton Charitable Support Foundation contributed a grant to the Libraries in 1997 to launch the Electronic Full-Text Project, which provided funds for acquiring full-text electronic resources to support a wide range of academic programs and disciplines.