First Programs: Europe
---

Former President Herbert Hoover established a precedent for the Fulbright Program in 1920. His experiences and views on the subject were stated in a letter to Senator Fulbright on February 8, 1946:

"In 1920, as a disposal of part of the funds from liquidation of supplies, etc., for the Belgian Relief Commission, I established the Belgian-American Educational Foundation, the purpose of which was exactly what you propose. . . . I doubt whether there is a country in Europe where the ideals and purposes of the American people are so well understood and so respected as they are in Belgium."

---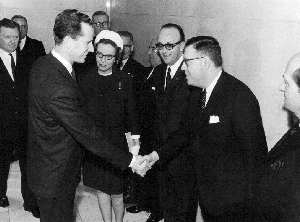 Members of the Board of Directors of the U.S. Educational Foundation in Belgium are presented to the King of Belgium at the foundation's twentieth anniversary celebration in Brussels on March 28, 1969. Left to right: Prof. Daniel Godfrind, president, Fulbright Alumni Association in Belgium; Melvin L. Manfull, chairman; the King of Belgium; Mrs. André Deflandre, executive director; George Moffitt, Jr.; Henri Levarlet; Gaspar Verecken; Roger Hastert; Frank Boas; and Edwin P. Kennedy, Jr.

Willy De Clercq, Belgian vice-prime minister and minister of finance, opens the academic session in Louvain-la-Neuve on October 20, 1973, at the twenty-fifth anniversary celebration of the establishment of the Fulbright Program between the United States, Belgium, and Luxembourg. The vice-prime minister was a Fulbright grantee at Syracuse University in 1950-51.

Jean-Louis Barrault, prominent French actor, gives an impromptu lecture on the contemporary theater on March 27, 1950. He based his comments on questions asked by Fulbright students in the embassy theater. On the stage: Dorothy Leet and Emile Audra, members of the U.S. Educational Commission for France; Jean-Louis Barrault; Leslie S. Brady, cultural attaché, and president of the commission; Gaston Berger and William A. Shimer, assistant executive officer and executive officer, respectively, of the commission.
USIS Photo.

---
Return to The Binational Programs.
Return to the start of the exhibit.
Return to the Special Collections Home Page.
Return to the University Libraries Home Page.