The Fulbright Program, 1946-1996:
An Online Exhibit
Introduction / Sources / History / Binational Programs / Board of Foreign Scholarships / Cooperating Agencies / Anniversaries / Grantees
Introduction to the Exhibit
In February of 1996 the Fulbright Institute of International Relations at the University of Arkansas observed the fiftieth anniversary of the Fulbright Scholarship Program at a symposium, "Promoting Global Understanding." To mark the occasion, the University Libraries, repository of several collections related to international educational exchange, mounted an exhibit highlighting the political, historical, and especially the personal dimensions of the Fulbright Program. With very few changes, this exhibit is now online here.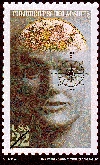 The United States Postal Service held a "first day of issue" ceremony on February 28 to unveil a commemorative stamp marking the anniversary. The ceremony was held in Fayetteville, the home town of the late Senator J. William Fulbright, who considered the Fulbright Program to be his greatest legacy. Part of this exhibit was shown at the ceremony.
Materials in the exhibit are drawn from the following sources in the Special Collections Division of the University Libraries: the J. William Fulbright Papers, the Bureau of Educational and Cultural Affairs Historical Collection, the Council for International Exchange of Scholars Records, the University of Arkansas Picture Collection, and the Fulbright College Archives.

Curator of this exhibit was Betty Austin, archivist in charge of the J. William Fulbright Papers at that time.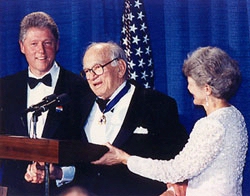 On May 5, 1993, President Bill Clinton presented the Presidential Medal of Freedom to Senator Fulbright at the Fulbright Association's eighty-eighth birthday tribute. Harriet Mayor Fulbright observes the ceremony.
---
---
Return to the Special Collections Home Page.
Return to the University Libraries Home Page.