India, Japan, and Germany
---

"I would not trade that year of my education with any other of the many years of formal education I have undergone."

Joseph P. Allen, astronaut and voice of Mission Control
in Houston during the Apollo 15 flight to the moon,
had a student grant in Germany.

---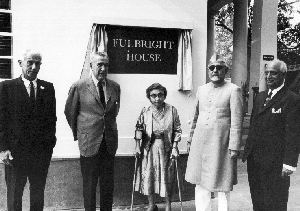 Vice-President Zakir Husain of India presided over a ceremony in New Delhi on November 28, 1965, naming the headquarters of the U.S. Educational Foundation the Fulbright House. Left to right: Dr. Robert Brooks; Chester Bowles, U.S. ambassador; Dr. Olive Reddick, director of USEF-I; Dr. Zakir Husain, vice-president of India; and Prem Kirpal, secretary, Minstry of Education.
Photo: R. N. Khanna. Photo Lab, USIS (India).

Headquarters of the U.S. Educational Foundation in New Delhi, the Fulbright House.
Photo: R. N. Khanna. Photo Lab, USIS (India).

Secretary of State Dean Rusk (left) and Senator Fulbright (center) meet with Japanese Ambassador Koichiro Asakai. Japan and the United States signed a Fulbright agreement in 1951, which resulted in a major educational exchange program.
Photo: John N. Richards, Sr. Department of State Photograph.

John Richardson, Jr., assistant secretary of state for educational and cultural affairs (left), and Dr. Hans Arnold, chief of the Foreign Cultural Policy Section of the German Foreign Office (right), exchange notes amending and updating the original Fulbright agreement on January 11, 1974. Assisting in the exchange is Richard Strauss (center), director of West European Projects, Bureau of Educational and Cultural Affairs. American Ambassador Martin Hillenbrand (third from left), along with other American and German officials, observes the ceremony.
Federal Republic of Germany Press and Information Office Photograph.

---
Return to The Binational Programs.
Return to the start of the exhibit.
Return to the Special Collections Home Page.
Return to the University Libraries Home Page.