Alumni Services
Visiting the Libraries
Alumni are welcome to use library facilities and collections.
Alumni may browse or use the collections on site without a current University of Arkansas ID card.
Depending on computer availability, alumni may log in as guests to the computers in Mullins Library to consult library databases and resources. Alumni are encouraged to contact the Circulation Department at 479-575-4104 (local), 866-818-8115 (toll free), or email: circserv@uark.edu for further information.
Librarians are available to assist you with your research questions. You can Ask us by email, online chat, phone, or at a research desk.
Those alumni who wish to consult historical or archival materials in Special Collections should contact the archivists before traveling to Fayetteville. Making advance arrangements will allow you to make the best use of your time in the library.
Borrowing Privileges and Interlibrary Loan
Alumni who are current members of the Arkansas Alumni Association may borrow books from the collection and use the Interlibrary Loan service. To apply for borrowing privileges, complete our application form or contact the Circulation Department at 479-575-4104 (local), 866-818-8115 (toll free), or email: circserv@uark.edu. Alumni will also need to obtain a University of Arkansas ID card from the Campus Card Office in the Arkansas Union to use as their library card.
The University Libraries are unable to ship library materials to distant alumni, who are encouraged to contact their local library to obtain interlibrary loan services. Use LibWeb to find a library near you.
Databases and Electronic Journals
QuickSearch is Open to All
The University Libraries offer QuickSearch. a search engine that includes records for books, articles, conference proceedings, theses and dissertations, videos, music, images, manuscripts, standards, maps, and more. We have added all the records from the library catalog to QuickSearch. It indexes the full text of most of the e-books and the e-journals that we subscribe to, in addition to thousands of open access journals. A single search in QuickSearch can return records from all of these sources. It's your first stop for exploring our collections and it's open to all to search, including alumni.
Look for the Open Access icon in QuickSearch that will identify for you items that are freely available to all.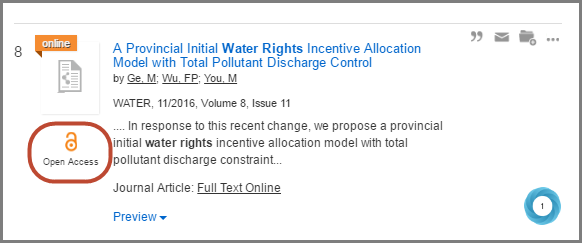 Special Alumni Subscriptions
The University Libraries provide access to two Ebsco databases for current members of the Arkansas Alumni Association:
Academic Search Alumni Edition is designed for the research needs of the post-college professional and  provides full text for more than 2,600 journals as well as indexing and abstracting for more than 13,800 journals. Iincludes more than 2,200 valuable peer-reviewed full text journals from a variety of academic disciplines.
Business Source Alumni Edition provides more than 1,320 full-text business magazines and journals, of which nearly 650 are peer-reviewed.  It covers nearly every area of business including marketing, management, information systems, accounting, finance, econometrics, economics and more.
To access these resources, log into the Arkansas Alumni Association portal.
Library Subscription Databases
Alumni may use most subscription databases and e-journals while in the library building or through the UA Guest Wireless connections on campus. However, due to licensing restrictions, these resources are generally not available to alumni from off-campus.
Open Access Research Databases
There are a number of freely available research databases that you may wish to consult. We've listed a selection, below.
The database, produced by the University Libraries, indexes periodical articles and book chapters on Arkansas topics. The articles and other entries indexed were published in county history journals, selected statewide magazines, and selected book titles.
Presents signed articles, photos, video, audio, and documents on the people, places, events, and environment of Arkansas. This initial release offers more than 700 articles. Includes essays reworked from Arkansas Biography (2000) as well as links to lesson plans.
Indexes materials acquired by the National Agricultural Library and cooperating institutions in the agricultural and related sciences. Ninety percent of the records describe journal articles and book chapters, and the remaining ten percent describe monographs, series, microforms, audiovisuals, maps, and other types of materials. Together they provide worldwide coverage of the agricultural literature.
The Education Resources Information Center (ERIC) is a digital library of education-related resources, sponsored by the Institute of Education Sciences of the U.S. Department of Education. Indexes journal and non-journal literature selected by ERIC from 1966 - present, with full-text links to ERIC documents and some journal articles.
Google Scholar indexes hundreds of open access and subscription journals, books from the WorldCat database, conference papers and proceedings, white papers, and other academic materials posted on the Web. Google Scholar is not as comprehensive as many subject databases, but it is useful in that it provides one handy place to search across many different disciplines and subject areas.
JSTOR, an important archive of core scholarly journals in the humanities and social sciences, offers a Register and Read program that allows independent scholars to read up to 3 articles every 2 weeks for no cost. There is also a JPASS program that allows individuals to purchase access to JSTOR.
PubMed is a service of the National Library of Medicine that includes over 15 million citations from MEDLINE and other life science journals for biomedical articles back to the 1950s. PubMed includes links to full text articles and other related resources. Indexes articles from more than 3,500 international journals published in the United States and 70 other countries. Offers comprehensive coverage of all areas of human and veterinary medicine, dentistry, nutrition, toxicology, pathology, public health, and health services administration. The MedlinePlus area is particularly suited to consumer health topics.
WorldCat is a union catalog of almost 150 million items in libraries worldwide. WorldCat describes items on thousands of subjects and published in any year since about 1000.
Partnering with large research libraries, Google is digitizing books and periodicals form all periods. Many resources published before 1923 are now in the public domain and can be viewed on Google Books free of charge.
A collaborative archive of digitized books. Most books that can be read full-text online were published prior to 1923 but there are a large number of government documents, including very recent Congressional reports and hearings.
Locating Publications
Some of the materials indexed in these databases have links to full text articles and books, while others will only provide a citation. If you find a citation to an article or book you would like to see, check with your local library to see if they own the item or if it can be borrowed from another library on Interlibrary Loan.