American Fulbrighters
Performing Arts: Musicians
---

"Along with the Marshall Plan, the Fulbright Program is one of the really generous and imaginative things that have been done in the world since World War II."

Arnold Toynbee

---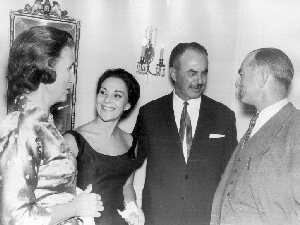 Anna Moffo, Metropolitan Opera singer (second from left), backstage with Senator and Mrs. Fulbright after her recital in Washington, D.C., in 1967. The senator referred to her as "my shining example. Every time they want to cut back on the Fulbright scholarships, I always say, 'Don't forget, they gave us Anna Moffo.'" Miss Moffo went to Italy in 1954 on a Fulbright scholarship to continue her voice study at the Conservatory of St. Cecilia in Rome. The grant also gave her an opportunity to sing with opera companies in France, England, Austria, and Italy.
Washington International Press Photo.

American conductor Lorin Maazel received a Fulbright scholarship in 1951 for study in Italy. He has since conducted major orchestras in Europe and the United States. On January 1, 1996, Maestro Maazel led the Vienna Philharmonic in their annual New Year's Day Celebration from the Austrian capital.

Ronald Radford, one of the few American masters of the flamenco guitar, is a protégé of Carlos Montoya and the only person ever to be awarded a Fulbright scholarship in flamenco (1968). The grant gave him an opportunity to study with the flamenco guitar masters of Spain, including Diego del Gastor and Paco de Lucia. Noted guitarist Oscar Ghiglia said, "It is rare, even for a Gypsy, to have the gift to lead one into the somber, unforgettable world of sounds of the real flamenco, and yet he--an American--is among the few who have given me this artistic experience."

Soprano Irene Callaway (right) with Senator and Mrs. Fulbright on the Spanish Steps in Rome in 1959. Miss Callaway, formerly from Arkansas, had a Fulbright scholarship to study voice in Italy.

In 1950, Gary Graffman traveled and studied in Europe under the auspices of the Fulbright Program, making his home in Paris for a year. He has had an international career, performing worldwide with major orchestras and as a soloist. In 1978, he was hailed by Newsweek as "one of the great living pianists."

Richard Syracuse (left) receives first prize from Mrs. Vittoria Leone, wife of the president of the Italian House of Representatives, for his performance in the Sixth International Piano Competition in Naples in April 1962. Dr. Adolfo Memmo, prefect of Naples (right), observes the ceremony. Syracuse studied in Italy as a Fulbright grantee.

Leon Thompson received a Fulbright scholarship to study conducting in Paris for a year. His educational background includes degrees from the Eastman School of Music and the University of Southern California, where he completed his dissertation in 1966 on the music of Afro-American composer William Grant Still. The Still Papers, along with those of his wife Verna Arvey, are housed in the Special Collections Division of the University of Arkansas Libraries.
Whitestone Photo, New York, N.Y.

---
Return to the listing of Grantees.
Return to the start of the exhibit.
Return to the Special Collections Home Page.
Return to the University Libraries Home Page.