American Fulbrighters
Performing Arts: Dancers
---

"I want to say that this honor is deeply appreciated . . . the whole exchange program which bears your name is one to be proud of. I am equally happy when I go abroad to remind people that Senator Fulbright was president of the University of Arkansas, to add further lustre to our state!"

Eleanor King in a letter to Senator Fulbright,
March 30, 1966.

---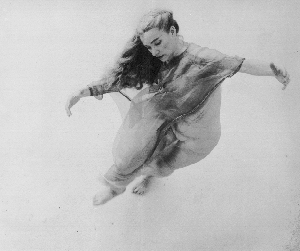 Eleanor King, a pioneer in modern dance, directed the dance program of the fine arts curriculum at the University of Arkansas from 1952 until 1972. She was awarded two Fulbright scholarships, in 1960 and in 1967, to conduct a comprehensive study of dance in Japan. Her work in Tokyo and Kyoto resulted in a book titled The Way of Japanese Dance.
Photo by Howard Whitlatch.

Saffeti Ajele (left) rehearses the "Zeybek," famous Turkish folk dance. She studied under the auspices of the Fulbright Program at the American College for Girls in Istanbul, Turkey.
Photo by H. H. Kreider.

Clifford Jones, an American dancer in India on a Fulbright scholarship, trains in the Kathakali dance technique in Kerala. He made his first appearance with a Kathakali troupe on August 15, 1960, during Independence Day celebrations. Jones formerly danced with the San Francisco Ballet Company.
USIS Photo (India).

Pauline Koner, dancer and choreographer, performing in "Cassandra," one of her compositions based on the music of Aaron Copland, another Fulbrighter, who studied in Italy in 1951. Miss Koner danced with the José Limón Company from 1946 until 1960, when she left to concentrate on her own choreographic activities and direct her own company. She received a Fulbright scholarship to lecture in Tokyo in 1965. Russian choreographer Michel Fokine, with whom she studied, said of the young Koner, "In her the soul dances."

---
Return to the listing of Grantees.
Return to the start of the exhibit.
Return to the Special Collections Home Page.
Return to the University Libraries Home Page.