American Fulbrighters
The Sciences
---

"We are all finding out that the progress of science and the advancement of the creative arts are cooperative ventures in the modern world and that bilateralism is a must."

Henri Bonnet, French ambassador to the United States,
in remarks praising the Fulbright Act, before the French government had
a program in place. A Fulbright agreement with France was signed in 1948.

---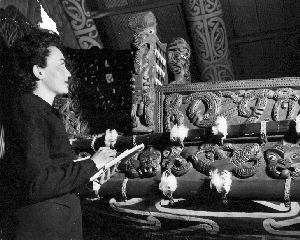 Beverly Cooper, one of the first Fulbrighters in New Zealand, studies a Maori canoe at the Canterbury Museum, Canterbury University College, Wellington. She received a scholarship to study Maori folklore in 1949-50.
Photograph courtesy of Time-Life.

John H. Shropshire, American graduate student from Connecticut (right), and shepherd Harry Whitton (left) are at work in the sheep fold. Shropshire received a Fulbright scholarship in 1955 to pursue studies in animal husbandry at the University of Reading in England.

An American woman and a Fulbright instructor study archeological ruins in Athens, Greece.

---
Return to the listing of Grantees.
Return to the start of the exhibit.
Return to the Special Collections Home Page.
Return to the University Libraries Home Page.