American Fulbrighters
Students and Teachers
---

"Surely the Fulbright Program can be likened to Henry Adams's famous line: 'A teacher affects eternity; he can never tell where his influence stops.'"

Albert H. Yee, the first Fulbrighter to the People's Republic of China,
was distinguished lecturer at the Institute of Psychology
of the Chinese Academy of Sciences in Beijing in 1980.

---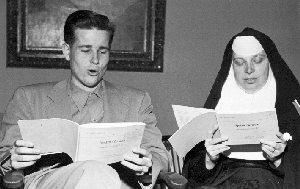 Andrew Foster, Union Theological Seminary, New York, and Sister Mary Albert Schueneman, Chicago, participate in the daily German language class in Mehlem as part of a three-week orientation before beginning their studies in German universities. They arrived in the fall of 1953, the first year of the Fulbright Program in Germany.
Photo: Helmut Wolf. Press Attaché Office, U.S. High Commission for Germany.

Marilyn A. McCaffrey (left), American Fulbright exchange teacher in Belfast, Northern Ireland, directs the miming of a poem by her Form IA English class. Standing (left to right): Ann Hoskins, Jane Reid, and Barbara Clements. Seated (left to right): Honor Wilson, Glynis Lloyd, and Brenda Anderson. Jumping: Dorothy McCrea.
Photo: Department of Health, Education, and Welfare (Office of Education).

Stephen C. Bloyer, Fulbright-Hays English teacher, conducts a class for advanced students at the Higher Teacher Training School in Vientiane, Laos, during the academic year 1964-65.
USIS Vientiane Photo by W. S. Boon.

---
Return to the listing of Grantees.
Return to the start of the exhibit.
Return to the Special Collections Home Page.
Return to the University Libraries Home Page.