International Fulbrighters in the USA
---

Ismail Saad, professor of education, Pakistan, said, "I now love my country much better and understand it much better than I did before. . . . In my estimate, this is the greatest contribution of the Fulbright Program to my life."

---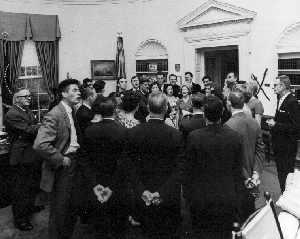 President John F. Kennedy welcomes Irish teacher grantees to the Oval Office in July 1963. Ireland signed an agreement with the United States on March 16, 1957, for a program under the Fulbright Act.

---

"When I was a little girl, I dreamed I would someday build an immense palace with a great library. Every book would have its place and through them all the authors, living and dead, would speak to me. I awake as an adult and see that the dream has come true; the Fulbright Program has built a palace big enough for the whole world, big enough for us all to discover the world's knowledge and the richness of multiple cultures."

Carmen Varela, Fulbrighter from Spain, 1992

---
---
Return to the listing of Grantees.
Return to the start of the exhibit.
Return to the Special Collections Home Page.
Return to the University Libraries Home Page.