The Fulbright Program, 1946-1996:
An Online Exhibit
Anniversary Celebrations



Introduction / Sources / History / Binational Programs / Board of Foreign Scholarships / Cooperating Agencies / Anniversaries / Grantees


In 1946 President Harry Truman signed the Fulbright Act authorizing the Fulbright Program. The first exchanges took place in 1948. Today, more than fifty years later, nearly 250,000 people from 150 countries have participated in the program.

Fulbright Week in Bonn, November 17-23, 1962, was part of the celebration of the tenth anniversary of the Fulbright Program in the Federal Republic of Germany. The senator received an illuminated parchment naming him honorary president of the Society der Freunde des Deutsch-Amerikanischen Austausches. Left to right: Senator Fulbright; Professor Carl Troll, University of Bonn; and Dr. R. F. Timken-Zinkann, executive secretary of the Fulbright Commission.

American author John Updike received the Lincoln Lectureship to Africa in 1973. In commemoration of the twenty-fifth anniversary of the Fulbright Program, outstanding American and foreign leaders were selected by the Board of Foreign Scholarships to lecture abroad and in the United States. Others chosen for the program in its inaugural year were Professor John Hope Franklin of the University of Chicago and Nobel Prize winners Paul A. Samuelson of the Massachusetts Institute of Technology and Charles H. Townes of the University of California at Berkeley. Left to right: Dr. James H. Billington, chairman of the Board of Foreign Scholarships; John Updike; and John Richardson, Jr., assistant secretary of state for educational and cultural affairs.

Photo: Walter J. Booze. Department of State Photograph.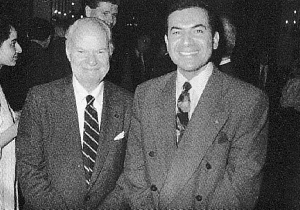 Dr. Mohamed El Far, Egyptian senior Fulbright scholar (right), welcomes Ewell E. Murphy, Jr., chairman of the Fulbright Scholarship Board (left), to the forty-fifth anniversary of the Fulbright alumni commemoration in Cairo. Dr. Boutros Boutros-Ghali, former secretary general of the United Nations, was a Fulbright scholar at Columbia University in 1954-55.
Photograph courtesy of the J. William Fulbright Foreign Scholarship Board.

---
Continue with next part of the exhibit, Grantees.
Back to the last part of the exhibit, Cooperating Agencies: IIE, NAFSA, CIES.
Return to the start of the exhibit.
Return to the Special Collections Home Page.
Return to the University Libraries Home Page.