German Prisoner of War Letters
German Prisoner of War Letters
Introduction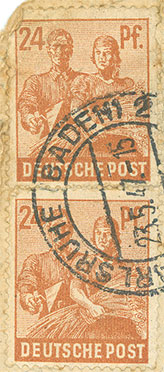 During World War II more than 20,000 German and Italian prisoners of war were held in Arkansas. Most of the prison camps were in central and eastern Arkansas, where trustworthy prisoners were hired out to farmers and businessmen to help meet labor needs. Among the largest prison camps in the Delta was Camp Dermott, where several thousand prisoners labored on area farms to help relieve the labor shortage.
In accordance with international law, the prisoners of war were paid a small wage for their labor. They were also afforded medical care, educational opportunities, recreational activities, and entertainment in the form of concerts and movies.
Included in this collection are 10 letters  sent after the war by former German prisoners at Camp Dermott to a prominent farmer and merchant near Parkdale in Ashley County, Mr. E.D. Gregory, on whose farm the men had labored as prisoners. These letters and post cards shed light on post-war conditions in Germany and Austria, but more importantly they also speak to the relationships that developed between farmers and the prisoners they hired.
Julie Thacker transcribed the letters and Deb Kulczak translated the Werner Schmitz letter.
Bibliography
Bowman, Michael, "World War II Prisoner of War Camps," Encyclopedia of Arkansas History & Culture (www.encyclopediaofarkansas.com). Accessed June 14, 2011.
Faust, Kay. "Remembrances of the Prisoner of War Camp in West Helena, Arkansas." Phillips County Historical Quarterly 16 (September 1978): 31–39.
Krammer, Arnold. Nazi Prisoners of War in America. Chelsea, MI: Scarborough House, 1996. "Prisoners of War at Camp Robinson—A Document." Pulaski County Historical Review 39 (Winter 1991): 74–78.
Pritchett, Merrill R., and William L. Shea. "The Afrika Korps in Arkansas, 1943–1946." Arkansas Historical Quarterly 37 (Spring 1978): 3–22.
Shea, William L., ed. "A German Prisoner of War in the South: The Memoir of Edwin Pelz." Arkansas Historical Quarterly 44 (Spring 1985): 42–55.
Smith, Calvin C. "The Response of Arkansans to Prisoners of War and Japanese." Arkansas Historical Quarterly 53 (Autumn 1994): 340–66.
Voss, Larry D. "The Prisoner of War Camps in Northeast Arkansas." Craighead County Historical Quarterly 7 (Summer 1969): 11–14.
Ward, Jason Morgan. "Nazis Hoe Cotton': Planters, POWs, and the Future of Farm Labor in the Deep South." Agricultural History 81 (Fall 2007): 471–492.