Overview of Special Collections
Overview of Special Collections
Manuscripts and Archives
Manuscripts and archives are comprised of historical materials that provide unique and often firsthand insight into Arkansas history and a variety of related topics. These materials, which are primarily unpublished and one-of-a-kind, range from correspondence and business ledgers to postcards, cabinet card photographs, and oral histories. Special Collections holds more than fourteen hundred processed manuscript collections, and newly processed collections are released to the public on a regular basis.
Some of our collecting strengths include:
Community life in Arkansas (including records of churches and schools and fraternal and social groups)
Family life in Arkansas (including diaries, letters, scrapbooks, and memoirs of Arkansas families and individuals)
Arkansas Collection

The Arkansas Collection of about twenty-eight thousand cataloged titles is a comprehensive library of Arkansas print material. Fiction and other literature, history and government, geography, natural and social science, arts, religion, and technology--all the major classes of knowledge--are represented in the collection. It includes rare early works, such as a copy of the first book printed in Arkansas, Laws of the Territory of Arkansas, printed by William Woodruff in 1821, and a copy of Henry R. Schoolcraft's Journal of a Tour into the Interior of Missouri and Arkansas, printed in London in 1821. The latest books by Arkansas writers are also acquired from local and national publishers. They include literary and scholarly works from the trade and academic presses, as well as privately published collections of folklore, humor, and inspirational writing.
The Arkansas Collection has benefited significantly from the work of several serious collectors of Arkansiana. For example, the library of Otto Rayburn, acquired in the 1950s from the Eureka Springs bookseller and publisher, provided many Ozark book and magazine titles. Mary D. Hudgins, a Hot Springs writer and librarian, donated her personal collection of more than a thousand volumes, as well as an immense collection of papers, sheet music, and photographs.
Documents published by state agencies and elected officials are part of the Arkansas Collection, as well as statistical reports, maps, information gathered by boards and commissions, and the published records of the General Assembly and the Supreme Court of Arkansas. The Arkansas Newspaper Project, completed in 1993, significantly enhanced the ability of the division to provide comprehensive access to newspapers published in the state since 1819, when the Arkansas Gazette was first printed at Arkansas Post.
Journals, magazines, and other periodicals on Arkansas subjects are maintained in paper or microfilm copies, and many are indexed. They include magazines of the present day as well as those that have long since ceased publication, such as Opie Read's Arkansaw Traveller and All's Well, or The Mirror Repolished, published in Fayetteville by Charles J. Finger. The division maintains a comprehensive collection of local and county historical journals published in Arkansas.
University History

The history of the University is well documented in Special Collections. The minutes of the Board of Trustees, descriptive brochures and bulletins of various administrative units, and some departmental files are housed here. In addition, Special Collections maintains holdings of dozens of University publications, ranging from the first yearbook, the Cardinal of 1897, and "underground" campus newspapers like the X-Ray, to programs for sports events, University theatrical and musical performances, and commencements. Record copies of theses and dissertations accepted by the Graduate School are housed in Special Collections. Of particular interest are the many albums, photographs, and other student memorabilia, including a diploma granted in the first graduating class in 1876.
Rare Books and Special Libraries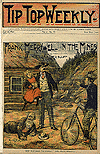 Rare books and special libraries are housed in the division because of their exceptional value, curiosity, or distinction. The collection ranges across the spectrum of knowledge and includes important early imprints of European literature and history, colonial American political tracts, examples of fine printing and illustration, and some interesting autographed books. John Gould Fletcher's personal library, rich in twentieth-century American, British, and European literary works, complements the collection of his papers for research on the arts during that period. The Wilson-Owen Library contains books that were in the personal collection of Robert Owen and Robert Dale Owen, nineteenth-century social reformers who established experimental communities in Great Britain and in New Harmony, Indiana. The Pathfinder-Porter Collection contains important eighteenth-century works in the social and natural sciences as well as in other subjects, many in interesting early bindings.
In the area of popular culture, the McIntosh Dime Novel Collection includes more than sixteen hundred printed works, including numbers of Tip Top Weekly, Beadle's Boys Library, Beadle's Halfdime Library, and many others. The collection of the Haldeman-Julius "Little Blue Books" is one of the largest in the United States, with approximately nineteen hundred titles.
Broadsides and Maps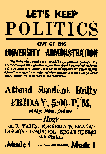 Broadsides and maps are other non-book resources maintained in Special Collections. The Broadside Collection contains more than a thousand items, including many scarce handbills and flyers, announcements of political rallies or religious revivals, appeals to buy War Bonds, and even undergraduate jokes circulated at the University. A noteworthy broadside is Albert Pike's letter to Major General Theophilus Holmes, written in 1863 and printed on a sheet of wallpaper. The division houses over ten thousand printed maps of Arkansas covering every period from before statehood to the present day. A fine early map in the collection is the eighteenth-century Carte de la Louisiane of Guillaume de Lisle, the first detailed map of the Mississippi River region. Another is a facsimile of the manuscript map of William Clark, published with the report of the expedition of Lewis and Clark in 1804-1806. The Sanborn Insurance Maps, comprising more than four thousand items, depict structures in Arkansas towns and cities between the 1880s and the 1930s. Some maps indicate the rise and fall of railroads in the state, while others show highways, political, topographic, or geologic features, tourist attractions or places of literary or historical interest.
Digital Collections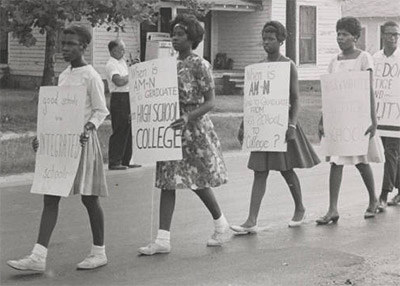 A growing number of Special Collections materials are now available online. Digital Collections include projects on civil rights in Arkansas, Fayetteville history, and Senator Fulbright.