Works Progress Administration (WPA)
Works Progress Administration (WPA)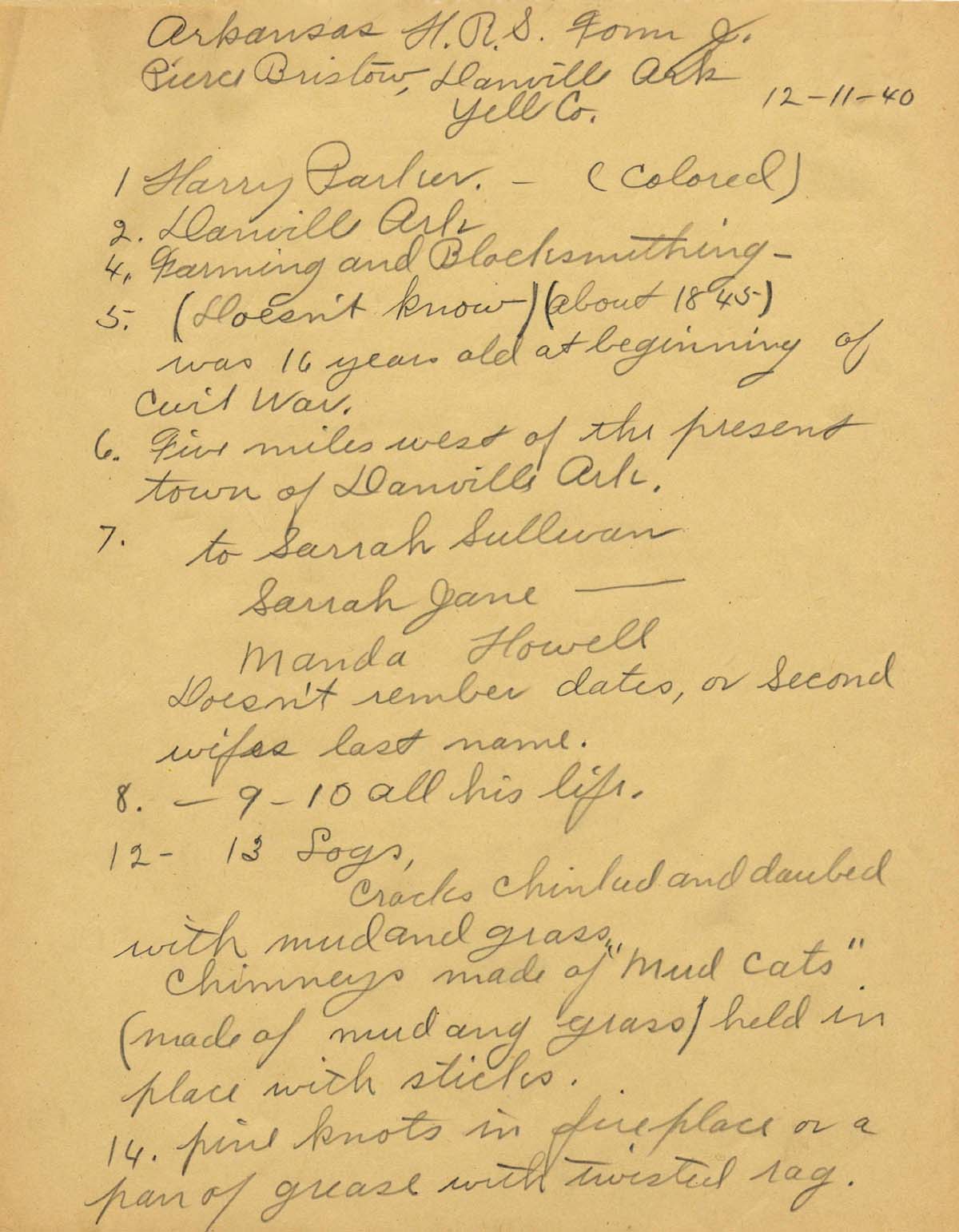 Originally, WPA was the acronym for the United States Work Progress Administration, 1935-1939. In 1939, the program was renamed Work Projects Administration.
WPA Early Settlers' Personal Histories of African Americans in Arkansas
Among the many relief efforts after the 1929 Depression, WPA Federal Writers' Project workers interviewed everyday people with the aim of publishing anthologies on different aspects of life in America. Two hundred and thirty-three persons were interviewed in Arkansas under this program. The originals of questionnaires used to record information during the interviews are preserved in the University Libraries' Special Collections. Transcriptions of questionnaires from interviews with seventeen African Americans interviewed in Arkansas under this project are represented here.
Background information is available in an article by Andrea Cantrell in the Arkansas Historical Quarterly 63 (Spring 2004).
Similar life history interviews from other states (though none from the Arkansas project) are available online in "American Life Histories: Manuscripts from the Federal Writers Project, 1939-1940," Library of Congress, Manuscripts Division, and in These Are Our Lives (Chapel Hill: University of North Carolina Press, 1939) and Such as Us: Southern Voices of the Thirties by Tom E. Terrill and Jerrold Hirsch (Chapel Hill: University of North Carolina Press, 1978).
The personal history interviews are both similar to, and different from, interviews conducted in the WPA Ex-Slave Narratives project. More information about the Ex-Slave Narratives for persons from Arkansas is available in Bearing Witness: Memories of Arkansas Slavery Narratives from the 1930s WPA Collections, edited by George E. Lankford (Fayetteville: University of Arkansas Press, 2003) and "Born in Slavery: Slave Narratives from the Federal Writers' Project, 1936-1938," Library of Congress, Manuscripts Division.
Transcriptions of the early settlers' personal histories of African Americans interviewed in Arkansas can be reached via the following links:
Oral history transcripts require Adobe Reader. This can be downloaded free of charge.
Individual African-American personal history interviewees
Interviewees by Arkansas county of residence at time of interview (ca. 1941)
| County of Interview | Interviewee |
| --- | --- |
| Crawford | Childs, Recebba (Mrs. Jessie Childs) |
| Crawford | William, Author |
| Hempstead | Johnson, Chess |
| Hempstead | McKinley, A.R. |
| Hempstead | Moore, Primus |
| Hempstead | Reed, Lawston |
| Hempstead | Royal, Emma (Mrs. John Royal) |
| Hempstead | Smith, William |
| Hempstead | Sutton, Malinda (Mrs. Eligah Sutton) |
| Hempstead | Tellington, Frank |
| Johnson | Newton, Pate |
| Lonoke | Washington, George |
| Washington | Blakeley, Adeline |
| Yell | Edwards, Laura Jackson (Mrs. John Edwards) |
| Yell | May, Ike |
| Yell | Parker, Harry |
Interviewees by place of birth
| State | Place or County | Interviewee |
| --- | --- | --- |
| Arkansas | Columbus | Johnson, Chess |
| Arkansas | Dardanelle | May, Ike |
| Arkansas | Hempstead | Mitchell, Ben |
| Arkansas | Hempstead Co. | Smith, William |
| Arkansas | Johnson Co. | Newton, Pate |
| Arkansas | Lewisville | McKinley, A.R. |
| Arkansas | Little River Co. | Sutton, Malinda (Mrs. Eligah Sutton) |
| Arkansas | Washington | Moore, Primus |
| Arkansas | Yell Co. | Parker, Harry |
| Georgia | Macon | Mitchell, Ben |
| Louisiana | Chatteau Parish | Reed, Lawston |
| Mississippi | [not given] | Edwards, Laura Jackson (Mrs. John Edwards) |
| N. Carolina | Bradie | William, Author |
| N. Carolina | Clinton | Tellington, Frank |
| S. Carolina | [not given] | Childs, Recebba (Mrs. Jessie Childs) |
| Tennessee | Hickman Co. | Blakeley, Adeline |
| Tennessee | Shelby | Washington, George |
| Texas | Corsicana | Royal, Emma (Mrs. John Royal) |
Interviewees by place in which they were slaves, if applicable
Place
Interviewee
Arkansas
Blakeley, Adeline
Arkansas (after Mississippi)
Edwards, Laura Jackson
(Mrs. John Edwards)
Arkansas
Parker, Harry
Georgia
Mitchell, Ben
Arkansas
Newton, Pate
Mississippi
(then Arkansas)
Edwards, Laura Jackson
(Mrs. John Edwards)
Texas
Royal, Emma (Mrs. John Royal)
Not given
Johnson, Chess
Not given
Moore, Primus
Not given
Reed, Lawston
Not given
Smith, William
Not given
Sutton, Malinda (Mrs. Eligah Sutton)
Interviewees by name of slaveholder, if applicable
| Slaveholder | Interviewee |
| --- | --- |
| Blakeley, Nora | Blakeley, Adeline |
| Dixon, Bill | Mitchell, Ben |
| Hudgens, Mrs. Harvey M. | Blakeley, Adeline |
| Jackson, Mrs. Elsie | Edwards, Laura Jackson (Mrs. John Edwards) |
| Melton, Johnson | Royal, Emma (Mrs. John Royal) |
| Newton, _______ | Newton, Pate |
| Parker, John M. | Parker, Harry |
| Parkes, John | Blakeley, Adeline |
| Not given | Johnson, Chess |
| Not given | Moore, Primus |
| Not given | Smith, William |
| Not given | Sutton, Malinda (Mrs. Eligah Sutton) |