Sidney Sanders McMath: A Man for Arkansas at 100
Sidney Sanders McMath: A Man for Arkansas at 100
This Special Collections exhibit features materials documenting the life of Arkansas's 34th Governor Sidney Sanders McMath.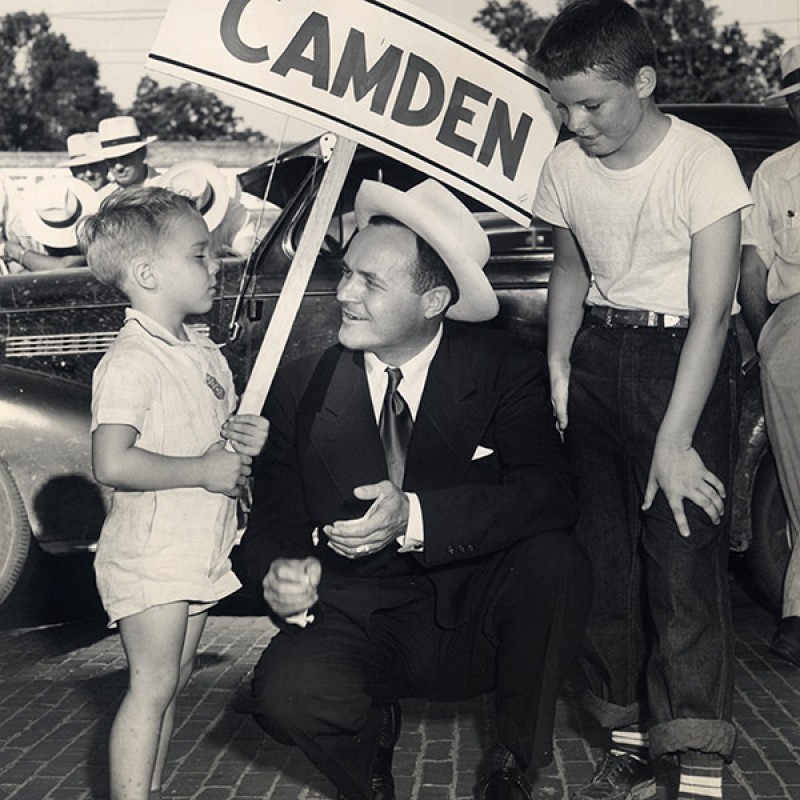 A Marine who won the Silver Star for his service in the Pacific during World War II, "Sid" McMath served as Governor of Arkansas from 1949 to 1953. He was born June 14, 1912, in Columbia County, Arkansas, to Hal and Nettie Sanders McMath, and grew up in Hot Springs. After graduating from the University of Arkansas in 1936, he returned to Hot Springs to practice law. In May 1937, Sid married his high school sweetheart, Elaine Broughton. The couple had a son before Elaine tragically died from complications following surgery in 1942. After serving overseas during the war, he was assigned to Marine headquarters in Washington, D.C., where he met Sarah Anne Phillips. They married in 1944 and together had four children. In 1946, the McMaths moved back to Hot Springs. Joined by other veterans, McMath led the "GI Revolt" against the political machine of Leo McLaughlin (1888-1958), and was elected prosecuting attorney for the Eighth Judicial District of Arkansas. McMath filed corruption charges against McLaughlin after widespread
McMath used his new found popularity as a reformer to mount a successful campaign for Governor in 1948. As Governor, McMath became a close ally of President Harry Truman and an opponent of the segregationist Dixiecrat movement within the Democratic Party. He began a massive road building program in Arkansas, supported efforts to extend electrical power to all regions of the state against strong political opposition, and supported the admission of the African American students to the state's law and medical schools. McMath was defeated in the Democratic primary in 1952 in his second campaign for reelection, and never again served in elected office. In 1966, McMath returned to the Marines and conducted an inspection tour of forces in Vietnam. He also promoted a Junior ROTC program commonly called "Sid's Kids" and gained national prominence as a trial attorney. In 2003, McMath published his memoir Promises Kept. He died the same year.
---
(Click thumbnail image to enlarge.)