Mary Celestia Parler Research Materials
Mary Celestia Parler Research Materials
Mary Celestia Parler (1904-1981) taught folklore and other courses in the Department of English at the University of Arkansas from 1948 to 1975. During her career she collected and managed the folk song collection and also gathered a vast quantity of non-song materials on Ozark lives, riddles, proverbs, beliefs, and superstitions that were compiled into twenty-one volumes held in Special Collections. Her students contributed more than thirty linear feet of reports on many topics of Ozark culture All these materials were donated by Miss Parler to the University Libraries beginning in 1965, where they have been managed and preserved ever since. She was a founder of the Arkansas Folklore Society in 1950 and served on its board with the poet John Gould Fletcher, collectors Vance Randolph and Otto Ernest Rayburn, and performers Booth Campbell and Doney Hammontree. Mary Celestia Parler married Vance Randolph in 1962.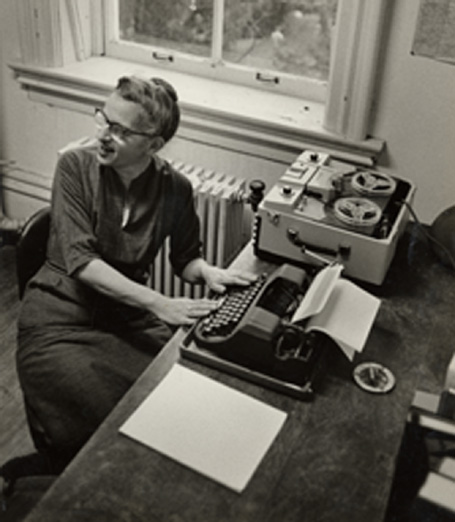 1949-1982 (MC F1-31 and MC 461) The University Folklore Collection was the result of the University of Arkansas Folklore Research Project under the direction of Mary Celestia Parler, professor of English 1949-1975. It contains 3,640 sound recordings 1949-1965 (MS F1-30) and lyrical transcriptions (MS F2), about 820 class reports 1958-1992 (MS F.16). Additions to MS F.16 were made by Dr. Robert Cochran, professor of English, 1976- .
1950-1980 (MC 1501). (6 linear feet) Correspondence, photographs, class reports, sound recordings, contact listings, and manuscript copies of "An Arkansas Ballet Book." These materials supplement the University Folklore Collection and include two boxes of linguistic reports as well as index cards and other research materials.
1950s (MC 896). (32 items) Photographs of Ozark folk musicians including Booth Campbell, Fred High, Mary Jo Davis, and others as well as photographs of Mary Celestia Parler in the field and in the classroom.
ca. 1920 (MC 897). Clippings of newspaper columns, book reviews, and articles, some authored by Mary Celestia Parler [Randolph], 1904-1981; most written by her mother, Josie Platt Parler, of Wedgefield, SC.

Randolph, Mary Celestia Parler. Vertical File.

Articles, newspaper clippings, and correspondence. References to Mary Celestia Parler Randolph's life and work.