MS F 1-30: University Folklore Collection, 1949-1982
MS F 1-30: University Folklore Collection, 1949-1982
Vance Randolph (1892-1980) was the foremost student of Ozark life and was elected a Fellow of the American Folklore.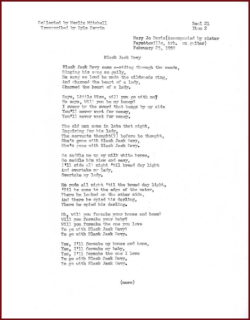 The Folklore Collection, which includes the Mary Celestia Parler Ozark Folksong Collection, consists of several series numbered F1 - F30, with a supplement, F31, also numbered MC 461.
The core of the collection, F1, consists of 442 reels of tape recordings captured by members of the University Folklore Research Project, 1949-1965, under the direction of Mary Celestia Parler. While most of the 137,400 feet of tape preserve Arkansas and/or Ozark folksongs sung by the indigenous folk of the area and recorded in their native locales, a few of the reels also record instrumental music performed without vocal accompaniment on fiddle, banjo, guitar, dulcimer, harmonica, or other native instruments, and some contain non-musical tales, anecdotes, etc.
In addition, the collection includes unpublished typescript transcriptions of the contents of the recorded songs (MS F2), folklore class reports (MS F16), and bound typescripts preserving various folk tales, sayings, beliefs, riddles, games, maxims, remedies, etiologies, etc (classes F20, 26, 28, and 30).
Donated by University Folklore Research Project, 1949-1975; Professor Robert B. Cochran, 1981-1982.
Digitization Project
The University Libraries are at work on a long-term project to digitize folksong materials and to make the music, transcriptions, and related files available online. If you would like to contribute towards this project, please contact us.
Detailed Contents
Class
Contents
F1
Tapes of folksongs and spoken word
F2
Transcriptions
F4
Checklists of songs
F8
Folklore research project reports
F12
Folk festival programs, etc.
F14
Miscellaneous
F16
Class reports and projects
F20
Ballads and songs in the University of Arkansas folklore archives: a syllabus, edited by Mary Celestia Parler, 1960. Second copy in MAIN ML128.F75 P32
F26
Proverbs from Arkansas: Adjectival comparisons (1960) and Proverbs from Arkansas: Maxims: collected by University students (1962) also in Main at PN6426 .P3 and PN6302 .P3
F28
Riddles from Arkansas; collected by University students (1962) and More Riddles from Arkansas (1962) also in Main at PN6371 .P3 and PN6371 .P31
F30
Folk beliefs from Arkansas; collected by University students (1962) also in Main GR110.A8 P3. The contents of these 15 volumes:

Birth. Childhood
Human body, Folk medicine
Folk medicine
Home, domestic pursuits
Economic, social relationships
Travel, communications
Love, courtship, marriage
Death and funereal customs
Witchcraft, ghosts, magical practices.
Cosmic phenomena: times, numbers, seasons.
Weather
Animals, animal husbandry
Fishing and hunting
Plants, plant husbandry
Miscellaneous

F31
Supplement, MC 461. Four boxes of reel-to-reel and cassette tapes, correspondence, miscellaneous